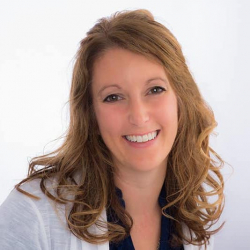 Latest posts by Nikki DeGeorge Weaver, Au.D.
(see all)
When we discuss hearing loss, we often talk about permanent hearing damage that takes place in the inner ear. Most hearing loss occurs when tiny sensory cells called "hair cells" are damaged or destroyed, limiting our capacity to detect sound. These tiny cells are the way the body picks up sound waves vibrating in the air and sends a signal to the brain. 
In the past decade however, more information has emerged on a new configuration of hearing loss. Often called "hidden hearing loss" because people with it have trouble hearing in complicated and noisy environments but are often able to pass a standard hearing test, this type of hearing loss isn't rooted in the hair cells. Let's take a look at what hidden hearing loss is.
Hidden Hearing Loss
While permanent hearing loss is normally tied to an insufficient amount of functioning hair cells, hidden hearing loss is caused by an entirely different component of the auditory system. In the case of hidden hearing loss, the link between the ear and the brain is impaired. The cells in the auditory nerve are the critical pathway that delivers signals from the ear to the brain. Healthy nerve cells are sheathed in a substance called myelin, which facilitates the transmission of signals from one cell to the next. 
First discovered in mice in 2009, it is now generally understood that a corrosion of the myelin sheath can produce hearing loss because the incoming information from the ear is not being fully transmitted to the brain. People with this sort of manifestation of hearing loss will especially have difficulty in complicated sound environments like a party, restaurant or conversation with many people. While it will be hard to parse sounds in a noisy environment, the ears may be capable of detecting a full range of sounds, making it possible to easily pass a hearing test in quiet and controlled conditions.
Signs of Hidden Hearing Loss
Hidden hearing loss will have some of the same signs as other forms of hearing loss. You may find yourself asking others to repeat themselves or speak up quite often. Situations in large groups or in busy places will be particularly challenging for your hearing. You may find yourself gravitating to quiet spaces and activities and away from challenging hearing environments. 
For those with hidden hearing loss, hearing issues will usually arise around parsing and prioritizing sound in a noisy environment. A multitude of noises will make listening and focusing very difficult. The myelin nerve damage limits the capacity of your hearing to effectively sort through all the incoming noise. In quiet or subdued environments, you will not perceive any issues with your hearing, and it may even seem quite acute, while a person with standard hearing loss may even find it difficult to hear in quiet situations.
This fundamental difference in where the hearing challenges are based means that hidden hearing loss can easily go undetected. Initially it may not be indicated by a standard hearing test, as the person can easily hear isolated tones at a full range of frequencies. However, when in complicated sound environments, hidden hearing loss will manifest itself similar to other forms of hearing loss.  
Causes of Hidden Hearing Loss
Like the loss of hair cells, damage to the myelin and synapses of the auditory nerve may be largely caused by exposure to dangerous noise levels. Several studies on mice have shown that exposure to noise levels that can cause damage to hair cells can also damage the nerve cells in equal or greater measure. 
Treatment For Hidden Hearing Loss
Understanding hidden hearing loss is an important step towards managing it. If you think your hearing challenges may be rooted in hidden hearing loss talk with your hearing specialist about your experience. Not only are special tests for hidden hearing loss becoming more available, new ways of managing hidden hearing loss are emerging.